Thursday, 19 March 2015 01:30 |
Written by James Nugent |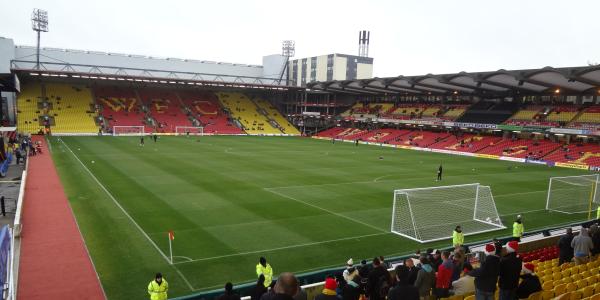 Given the limited allocation and the fact that it is a big game, demand will exceed supply for the Watford game on Monday 6-Apr (Easter Monday) at 12:
15pm
. Therefore, we are implementing some small changes to our usual ticketing process for this game.
If you are a Season Card or
Boro
Pride member, you are advised to
buy directly from the

Boro

ticket office
. Tickets are available to Season Card holders on Thursday
19th
March and to
Boro
Pride members on Monday
23rd
March.
For everyone else,
MSS
are now collecting ticket requests from non-season card/
non-

Boro
Pride members on the
MSS

shop.
The deadline for ticket applications is
8pm

on Monday

23rd

March.
This will allow us to collate the orders and deliver them to
MFC
when they go on general sale the following morning.
As we expect high demand and have no reserved allocation of tickets, we are unable to guarantee you a ticket and requests will be processed on a first come, first served basis. Order early to avoid disappointment. If your application is unsuccessful, your PayPal order will be refunded to your account.
Monday, 02 March 2015 14:13 |
Written by James Howell |
"Beware the ides of March" the soothsayer told Julius Caesar and this warning should be bestowed onto
Aitor
Karanka
as the season begins to get significant. As the soothsayer's original warning predicted the assassination of the Roman Leader, March could also spell the death of
Middlesbrough's
season ambitions.
This month, there is a fixture line up that will decide our season. The month sees us face Ipswich, Derby, Bournemouth and, a few weeks later into April, Watford, as well as recently resurgent Nottingham Forest. While a similar sequence of fixtures was experienced in late November and December, this time it will be absolutely vital for
Boro
to use these game to consolidate a position in the top 2. 
With only three points currently separating the top three places in the league, emerging victorious from these games would surely spell title winners, defeat would leave us scrabbling amongst the play-offs places and at worst below the dotted line. 
One small feature of comfort that the
Middlesbrough
faithful can take heart in is the ability to play in big games. Take Derby, for example, although at the Riverside, they were comprehensively beaten and the same can be said about
Brentford
last weekend and holding blitzkrieg Bournemouth to a nil-nil draw also shows our ability to perform when it matters. 
What could be construed as worrying is watching teams strengthen around us, Derby adding Tom
Ince
and Jesse
Lingard
most notably. Our hopes of Bournemouth dropping off has begun to show signs of fruition.  The emergence of Norwich as contenders only adds to our problems. 
It is too early and with too much to play for to start regretting dropped points, but February presents itself with an opportunity to reclaim these. With wasteful draws against
Blackpool
and Charlton earlier in the season, as well as a losing to Leeds and Sheffield Wednesday in recent times, the team now must start notching some points on the board. 
If we are going to win the title, and yes I said it, we need to get the show back on the road. They say there are no easy games in the Championship and  we've shown we can beat any team in the league, losses to Wednesday and Leeds are going a long way to derail us. 
The one issue that seems to be leaving us slightly behind is the goals scored column. While we are obviously the finest defensive outfit in the League, having only conceded 24 in 34 games, with the closest being Derby and Sheffield Wednesday conceding 35 and 32 respectively. However, we remain the lowest scores in the top 6. What does this mean? Well realistically nothing, but come May and the end of the season it's the fine margins that matter. 
So Friends, Romans and countrymen, lend me your ears. We need
Aitor
and the team to unleash their inner Brutus and, in merciless fashion, slay not only our promotion rivals but the likes of
Millwall
and
Wigan
in early April. 
Originally written for
FMTTM
. Updated for
MSS
.